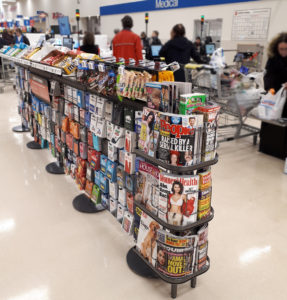 I recently returned from a Loblaws trade show.   This show piggybacks on Loblaws National Kick-Off meetings and is held every 2 years.  The show moves around to various locations in Canada and this year was held in Halifax on January 29th and 30th.    It is a very busy 2 days where we get to visit with 1500 Head Office Employees, Store Managers, Specialists, and District Managers.  We collect 3000 copies of our top-selling magazines, to give away, to the people who visit our booth!  This makes our booth a very popular stop!
We also promote new books that are being released. This year we were promoting the prequel to the Hunger Games that is releasing in May 2020.  It is called The Ballad of the Songbirds and Snakes and there will be lots of excitement surrounding it.
The trade show is a fantastic opportunity to showcase our product and speak to the profitability of the reading category.   It is so important to discuss the attributes of the category.  This show gives us an opportunity to showcase facts that the staff might not be aware of and put a positive spin on reading!  It also gives us an opportunity to recap any recent changes (new fixtures, locations, etc.) and how those changes have impacted our sales.   One of the items we spoke about was a U Scan fixture that we added in RCSS banner stores during 2019.  We showcased the success of this additional fixture with the hope of adding it to more banners.
In addition to the reading category, we were also discussing the various other categories TNG is involved in with Loblaws banner stores.   Did you know that TNG delivers the majority of craft beer to Loblaws stores?  In late 2018 we also launched a program, with Soda Stream, which has been a huge success! TNG handles all of the logistics for this product and is highly involved with the head office team in regards to planning and promotion.   We also managed the initial set up and continued merchandising of the new party sections at Loblaws stores.   TNG now merchandises these sections weekly when we visit to complete our magazine and book merchandising.
Overall the show is a very busy few days but I believe it gives us a good opportunity to showcase our products and services to the key people at Loblaws Co.