Mr. Magazine™ interviewed  Ronan Gardiner, VP/CRO/Publisher, and Richard Dorment, Editor In Chief, Men's Health this past week and for a legacy brand of 30 years, they are still bringing the game.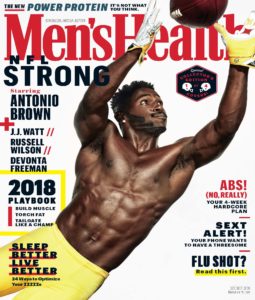 "At 30 years of age, Men's Health is speaking to more men across more platforms than ever before according to Ronan Gardiner, VP, Publishing Director & Chief Revenue Officer, and Richard Dorment, Editor in Chief. With 12 million readers in print, 8 million online, and 15 million across all social platforms, Men's Health is a legacy brand that is still as vibrant and as relevant today as it was 30 years ago."
Certainly the consumer continues to be very interested in health and that is a contributing factor to Men's Health Magazine's continued success, but they also continue to evolve the brand and that is exciting to new readers.
"According to Rich, fitness, and health and wellness have never been more prevalent than in today's changing male environment, hence the new tagline which epitomizes the "new" Men's Health, where vitality is the core of the brand."
It's nice to see a brand that is thriving…
"All Mr. Magazine™ can say is Men's Health seems to be A-Okay, no stress test needed. And with its cornerstone print product thriving, digital and social growing, the brand shows no signs of slowing down as it nears its 30th anniversary. And check newsstands as the October issue of the Stronger, Faster, Better Men's Health hits today!"