April showers bring May flowers, but this April also sees the launch of a new print magazine!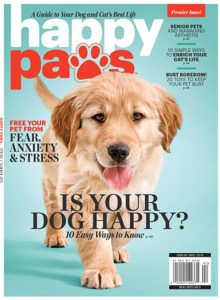 It's been no secret that many people are still naysayers of the physical magazine, but when a major publisher launches a new magazine, you know they are doing it with a lot of planning and forethought. They back winning products and this new magazine will be that also. Meredith magazines are some of the best-known home & lifestyle magazines at your store checkouts and mainlines everywhere. This newest publication "Happy Paws" will catch loads of eyes with its 100-page, high-quality first keepsake issue . Produced by Fear Free, a veterinarian-led organization, it is sure to have not only access to adorable animals, but the opportunity to publish articles that may be more fact-finding, and research driven as opposed to humanitarian short stories. As for Meredith's decision to partner on the launch, Mortimer says that "We know that pet content is one of the best-selling categories in our Special Interest Media Group. We also know that pet coverage across our Meredith brands from People and Real Simple to Southern Living and Family Circle is extremely popular." 1
About 65 per cent of Canadian households own at least one pet, stated Emma Harris, founder of Healthy Pets . The opportunity for product placement and tie-ins to this magazine could be plentiful, receiving lead sponsorship from Purina. And while the internet is obviously awash in animal-related adorableness, Happy Paws' content is meant to be authoritatively servicey; the first issue's line-up will include articles on "helping your pet overcome fears and anxieties" and "training methods that build communication and trust." 1.
This magazine will also encourage things like stimulating the pet's mind and baking homemade pet treats, so you can imagine there will be product placement and the possibility for cross-merchandise displays for the holidays! With that in mind, marketers can also expect to get some positive results, with MediaPost reporting that often print can drive online performance given the right content. Kantar TNS also reports that people read pieces that come into their homes 3.8 times, and 21% of them go on to create a commercial action from those pieces – whether it be visiting a website or visiting a store directly.
Whatever the result, I know as a dog owner that I will be checking it out with my pup – there's never too many dog related stories, articles, or advertisements for us!
"Meredith is Launching a, Yes, Print Mag" by Simon Dumenco, March 14, 2019